POP*EYE
*
*
*
Swimming With Dolphins
Water Colours (2011)

*I proud to highly
Recommended!*
Swimming With Dolphins began in 2008 when Austin Tofte teamed with friend Adam Young on a side project to Young's Owl City band (which Tofte was also playing in, before opting to make Dolphins his main focus). Spanning 10 tracks, Water Colours represents the two-plus years Tofte has spent writing since self releasing SWD's first ep Ambient Blue. Secluded at his father's home in northern Minnesota, Tofte escaped the distractions of the Twin Cities and the accumulating snow outside by pouring his energy into Water Colours. The presence of organic instruments like genuine, non-sampled guitar, drums and piano give Water Colours a much more traditional feel than SWD's past work as well as a collection of multiple textures leaving you with a record thats very addicting. Fans will revel in the kinetic '90s pop of "Watercolors," or find themselves hopelessly bouncing to closer "Good Times," featuring a verse by hip-hop comer Mod Sun. Opener "Holiday" features a smooth male-female duet over synth plucked straight from a John Hughes flick, while second-to-last track "Happiness" pulses with a much darker, more somber energy.
I want to be real with people. A record encapsulates a period of time in your life, and that's just what this was, really. It's not a super happy record in terms of lyrics, but it sounds happy.
—

Austin Tofte
—

Sleep To Dream
The timeless fun of 80s synth-pop is alive and well in the music of Swimming With Dolphins, a Minneapolis group founded by Austin Tofte and Owl City's Adam Young. The brand new single "Sleep To Dream" is a catchy and energetic teaser for their upcoming album Water Colours, set for release on May 17 on Tooth and Nail Records.
Now Indaba's giving you a chance to join the party. Swimming With Dolphins wants to hear your remixes of "Sleep To Dream" and the winning artist will get some serious cash and exposure.
Swimming With Dolphins - Sleep To Dream Remix Opportunity
All about

Swimming With Dolphins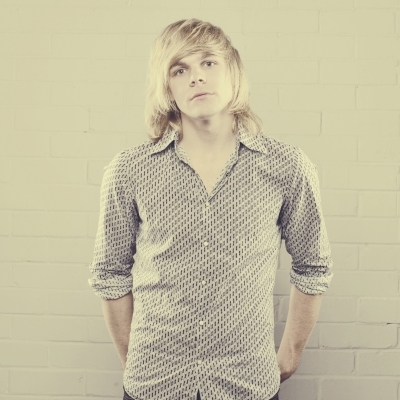 Synthpop band

Swimming With Dolphins

will release a debut full length album titled '

Water Colours

' on 8th March 2011. Fronted by Austin Tofte, with the production genius of Adam Young from Owl City, the group create a warm and upbeat sound that has been winning over fans on recent tours.

Formed in 2008, Swimming With Dolphins released the '

Ambient Blue

' EP later that year to critical acclaim. Since then, Swimming With Dolphins has toured the country with the likes of Owl City, Lydia and Kill Paradise.

Swimming With Dolphins is putting the finishing touches on their yet to be titled debut album. The band crafted their album in Seattle, with help from producer Aaron Sprinkle and in Atlanta, with the help of producers Zack Odom and Ken Mount.
'Swimming With Dolphins has a synthpop sound that goes right to the heart.'