Monocle sums the facts on newspapers from the World Association of Newspapers. Some of those facts:

1. There has been an explosion in the number of new titles, and now a record 11,000 daily papers are produced worldwide.

2. Global newspaper circulation is up almost 10 percent over the past five years.

3. Over 550 million people globally buy one every day.

A summary of this package will not give justice to this great series of stories, so try to get yourself a copy of the November issue of Monocle. It is worth every penny of your $10. I bought the magazine in Amsterdam on my way from a week of work in Finland. It was the best reading on the plane that I've done in a long time. One of the best quotes I have read in the article was by Jan Paul van der Wijk the chief of design for NRC Next, "News is free, but information is not — we tell people the news but do more with it."
—MEDIA EVENT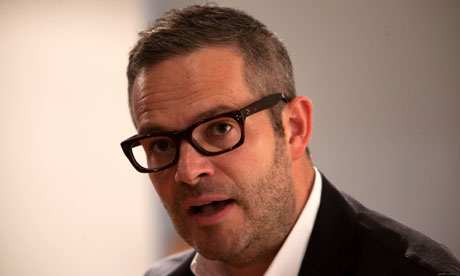 Tyler Brûlé from Bakgård on Vimeo.
—STREET PARTY
party organized by Dopplr
A party was held at the Danish Embassy in London to mark the publication of Monocle's 'Quality of Life' issue in June. Tyler Brûlé, editor in chief, announced that Copenhagen had come top of the magazine's annual list of the world's most 'liveable' cities. The issue's survey looked at 25 cities, judged for their architecture, culture and cuisine as well as their politics and international connections. Copenhagen celebrated the win by holding a street party in the City Square with free music, entertainment, food and drink.

Last night Monocle hosted a subscriber event in Lamb's Conduit Street. Readers were able to visit stores who had gone out of their way to make the evening special – complete with special M cupcakes in front of French's Dairy to food tastings at Kennards which is a high-quality grocer.

Oliver Spencer offered a free monogram service for shirts as people could also purchase back issues of Monocle. Synphonic Records is a new vinyl only record shop and had great music playing while Persephone opened their doors so we can see their inspiring books. Even Vats Wine bar had a Monocle risotto on offer. After everything was over the Monocle team all had tapas and wine in Cigale to end the perfect evening.
Tyler Brûlé's

10 RULES ON PACKING
1. There's no such thing as check-in. Carry-on -- always. 2. You can usually carry on one extra bag if you ask nicely -- at least in Europe. 3. Three days, three months: it's all the same when it comes to packing. Hotels have laundry service for a reason. 4. No logos. Discreet is far superior to bling, particularly in less secure destinations. 5. Always pack a collapsible tote for shopping and in-flight material like magazines, toiletry kits, slippers et al. 6. Overlook bags by Porter, Herve Chapelier, Globe-Trotter, Coperto and Valextra at your own peril. 7. Consider the safari jacket (Helmut Lang or Alberto Aspesi); it is an excellent all-round, all-weather garment. 8. Opt for Peter Geeson knitwear in single-ply lamb's-wool; it's multiseasonal. 9. Always ask your laundry service to fold and bag shirts rather than hang them. 10. Dop kits (nylon over leather) are best kept small, as size imposes discipline.


Life holds few bigger turnoffs than a person who doesn't know how to pack. Wheelie suitcase squeaking, laptop slung around the neck, carry-on bouncing off the thigh and brow moist with sweat are a disturbing and deeply unsexy sight. A perfectly balanced passenger -- valise clutched in one hand, gently swinging tote in the other -- not only is wildly attractive but could also well prove to be a potential partner for life. Sadly, such specimens are spotted with about the same frequency as a clean toilet on an airplane.
I'm not smug by nature, but I do dart through the world's major ports comfortable in the knowledge that I'm a member of that top percentile. I'm not classically trained, but 15 years of moderate travel and another 15 of intense globe-trotting have given me a solid foundation in planning and packing for long-term assignments, 48-hour weekends and 10-day beach vacations alike. As a rule, I have little time for articles that tell readers how to pack because, without exception, they miss the most fundamental rule of travel: packing for three days or three weeks is the same basic exercise. Once you've come to terms with the fact that you don't need 10 kinds of suitcases or steamer trunks for long-haul trips (tamers of tigers, magicians and people with the surnames Dion, John and Twain excepted), you will extend your life by a decade. Add to this a well-edited wardrobe, and you can be packed and curbside in less than 10 minutes for travel as diverse as a three-day meeting with investors in Istanbul or two weeks seeing South Korea by rail.




Some years ago, Puma introduced 96 Hours, which was supposed to tap into an underserved market of travelers who needed a ready-made wardrobe built around stretchy black fabrics. Conceptually, it was a great idea. Puma even managed to recruit the designer Neil Barrett. But the execution was terrible: trousers that looked like black underpants designed for prancing around on a float at a Gay Pride parade, and denim that was more appropriate for playing in a sandbox than for dozing on Cathay Pacific. There were stretchy black tops, a black trench and some black trainers masquerading as loafers. The hard-sided case might as well have had the word ''amateur'' stenciled across it, as informed travelers would know that the carrier had fallen for a piece of marketing rather than a piece of industrial design meant to improve travel.




What you pack in is almost as important as what you pack. This is not to say that I've managed to find my dream bag. I recently came terribly close at Herve Chapelier in Paris, where I picked up a new soft-sided rectangular valise in black nylon. There are no pockets, straps or superfluous hardware on the outside. On the inside, there's just the luxury of volume. It's so generous that there's room for well-worn desert boots, sensible trainers and Church's cordovan brogues, as well as unexpected purchases. The best part is that the streamlined, unadorned profile makes the bag look positively tiny, so it always manages to find a home in an overhead storage bin.




For overnight engagements, I depend on a black nylon bag from Porter of Japan.




Capable of carrying a G4, a specially edited overnight toiletry kit, an Hermes diary, notebooks, at least three daily newspapers, torn-out magazine articles, all kinds of adapters and chargers, two novels, passports and gifts for clients or friends, it features a hidden pocket that accommodates two shirts (usually Richard James or Sovereign House from United Arrows), socks (always Falke), underwear (Calida or JBS) and a single-ply cashmere sweater. The pocket has so far saved me the embarrassment of pulling out my laptop for a presentation and having my briefs on display for all to see.




Though I'm content with my current bag collection, my eyes still wander whenever I pass a luggage shop. My Chapelier could use a well-designed strap, and my Porter could somehow be re-engineered to accommodate sneakers, shorts and a T-shirt. But for now they're the best I've managed to find.





That said, I'm always up for a bit of well-mannered temptation.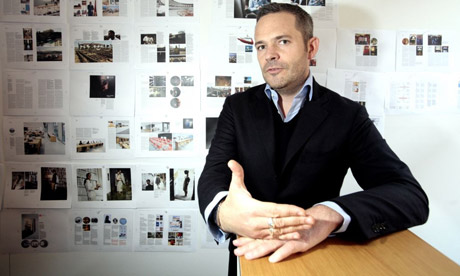 Tyler Brûlé's

Ten key attributes in the retail experience according to Monocle are:


1. Service minded, smartly dressed, enthusiastic staff
2. Obsessive attention to detail
3. A memorable welcoming scent in the air
4. Good music in the background
5. Flattering lighting
6. Treats with all purchases
7. Impeccable packaging
8. An inviting façade
9. A unique original product mix
10. A passion to constantly innovate





PERSONAL EFFECTS