The

PORTA
STYLE

GUIDE
-TOMBOYS LOOK!-
Is comes in 2010
The Modernist Style, Feminism Look Sharp!
-Annie Hall Style-
TOMBOY STYLE
*
*
*
-ICON-
Diane Keaton
"She came in and the costume lady on

Annie Hall

said, 'Tell her not to wear that. She can't wear that. It's so crazy.' And I said, 'Leave her. She's a genius. Let's just leave her alone, let her wear what she wants.'—Woody Allen
*
*
*
-ICON-
Katharine Hepburn
"I have not lived as a woman. I have lived as a man. I've just done what I've damn well wanted to and I've made enough money to support myself and I ain't afraid of being alone."—Katharine Hepburn
*
*
*
-ICON-
Marlene Dietrich
"The most intriguing woman I've ever known." —John Wayne
*
*
*
-ICON-
Joan Jett
"I grew up in a world that told girls they couldn't play rock 'n' roll." —Joan Jett
*
*
*
-ICON-
Annie Oakley
Annie Oakley by Andy Warhol, 1986



"My mother was perfectly horrified when I began shooting and tried to keep me in school, but I would run away and go quail shooting in the woods or trim my dresses with wreaths of wildflowers."—Annie Oakley
*
*
*
-ICON-
Lauren Hutton
"Raised by her mother and stepfather (she never knew her natural father, who died in his mid-30s) in the deep south, [Hutton] was indeed a tomboy who explored the swamp behind her house with the regularity of a Mark Twain character." —Alex Simon, Venice Magazine
*
*
*
-ICON-
Ricky Lauren
"When I was a little girl I would watch old black-and-white cowboy movies on television every Saturday morning and afternoon, rain or shine. I would dream of being a cowgirl, of riding the range and roping the steers, of sitting on bales of hay and singing to the strains of guitars at evening campfires." —Ricky Lauren
*
*
*
-CONTEMPORARY-
Agyness Deyn
"I've had short hair since I was 13, and when I was 17, I had a skinhead."—Agyness Deyn
*
*
*
-CONTEMPORARY-
Carey mulligan

"I think I model my life on Home Alone. I want to have crazy fun and get into scrapes. ."
—Carey Mulligan
*
*
*
-CONTEMPORARY-
Ellen Page
"

The Breakfast Club

really bothered me. This is, like, an iconic movie, and the coolest character, Ally Sheedy, goes from being this interesting, quirky girl to being made 'hot' so she can make out with frickin' Emilio Estevez? Give me a break!"—Ellen Page
*
*
*
-CONTEMPORARY-
Lesley M.M. Blume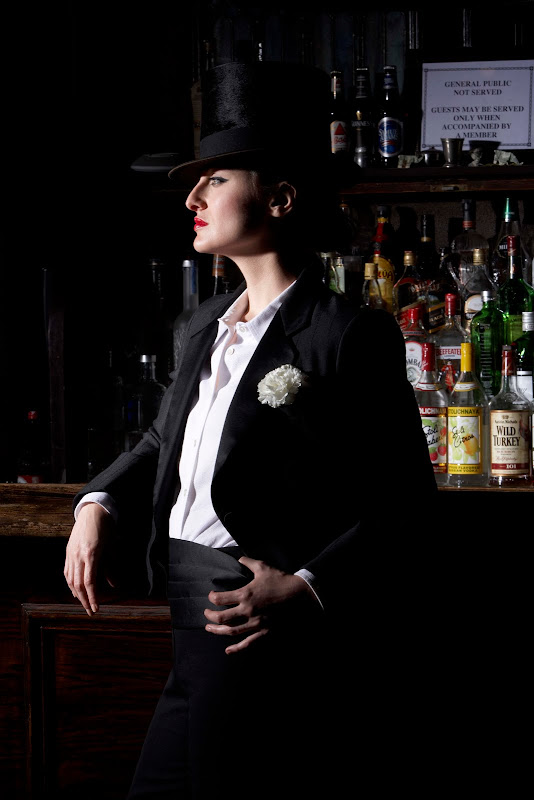 photo by Katie Fischer



"I've rarely felt as glamorous as I did wearing a Dietrich-inspired tuxedo to the Frick Ball; I doubt the most elaborate Oscar de la Renta ballgown could have had the same effect. I can't explain the calm of it, sailing around in tails amidst a sea of satin dresses. And yet, it still felt distinctly feminine - albeit a stranger, more extravagant version of femininity." —Lesley M. M. Blume
*
*
*
-NOISE-
Charlotte Gainsbourg
Heaven Can Wait by Charlotte Gainsbourg + Beck


***

-NOISE-
Cat Power

photos of Chan Marshall by David Black

"I'm not that hot new chick." —Cat Power


***

-NOISE-
Tina Weymouth



Talking Heads bass player Tina Weymouth in 1978

"Ex-Velvet Underground member John Cale says Tina was queen because she had that 'Jean Seberg thing going', that short-haired look of the actress who played Joan of Arc for Otto Preminger. The New Wave tomboy who hawked The Herald Tribune in Godard's Breathless. Both Jean Seberg and Tina Weymouth seemed adorably feminine because to paraphrase Seberg's lover Carlos Fuentes, 'to get those two you had to negotiate the twist and turns of androgyny and homoeroticism.'" —David Bowman (an excerpt from This Must Be the Place: the Adventures of Talking Heads in the Twentieth Century)

"As far as I'm concerned, being any gender is a drag." —Patti Smith


***

-UNIFORM-
Steven Alan

Mr. Alan knows how to dress a tomboy.
Super Basic sunglasses ($117); Boyfriend pullover ($158); Keds ikat slip ons ($68); Fidelity waxed scooter jacket ($210); Levi's 1960 Black Tab shorts ($195); Sunshine + Shadow wrapped belt ($198); Filson original briefcase ($218); Selvedge scarf ($98).

***

-UNIFORM-
J. Crew 2010 Fall Collection

"...everything looks gorgeous, old-fashioned and tomboy-ish."—Joanna Goddard

***

-UNIFORM-
Vans




Canvas Authentics ($42), a timeless tomboy summer staple.






STYLE WATCH

MARINA MUNOZ



WILLIAMSBURG, NEW YORK

STYLIST ASSISTANT

1. FIRST OF ALL: COMFORT AND ELEGANCE ALWAYS! AND IT'S BETTER TO STICK OUT THAN BLEND IN.

2. I PREFER WELL MADE PIECES, STAPLES THAT I CAN HAVE IN MY CLOSET AND YEAR AFTER YEAR THEY AGE LIKE WINE, LIKE AN OLD HERMÈS BLOUSE OR CHLOÉ BLOUSE.

3. I THINK THAT TOO MUCH PERFECTION IS BORING. THERE HAS TO BE SOMETHING OFF, SOMETHING DISTRESSED OR WORN.

4. I LOVE VINTAGE AND MENSWEAR AND LOVE INCORPORATING THOSE PIECES WITH MY EVERYDAY WARDROBE. I AM REALLY BIG ON LOAFERS NOW. I COLLECT PIECES FROM THE MEN I ADMIRE AND HAVE COUNTLESS THINGS FROM MY FATHER, BROTHER AND OF COURSE I WEAR A LOT OF MY BOYFRIEND'S CLOTHES.

5. I FIND THAT IF SOMETHING LOOKS ON GOOD ON ME, I TEND TO STICK TO IT LIKE MEN'S SHIRTS, HATS, TROUSERS AND SIMPLE SHIFT DRESSES. I LOVE DRESSING UP AND DRESSING DOWN.

6. I DON'T REALLY LIKE TO FOLLOW FASHION. I LOVE AND WORK IN FASHION BUT I'VE BECOME MORE OBSESSED WITH THE DETAILS OF PIECES AND THE MIXING OF SHAPES, TEXTURES AND FABRICS.



7. MY FAVORITE FILM IS THE LOVER, THEN FUNNY FACE WITH AUDREY HEPBURN. THOSE FILMS REALLY INFLUENCED MY STYLE.

.........................................................................................
Prêt-à-Porter

"
Ready to Wear
"