I AM LOVE
(Io Sono L'Amore)
An intriguing delight and so beautifully performed - particularly by Tilda Swinton!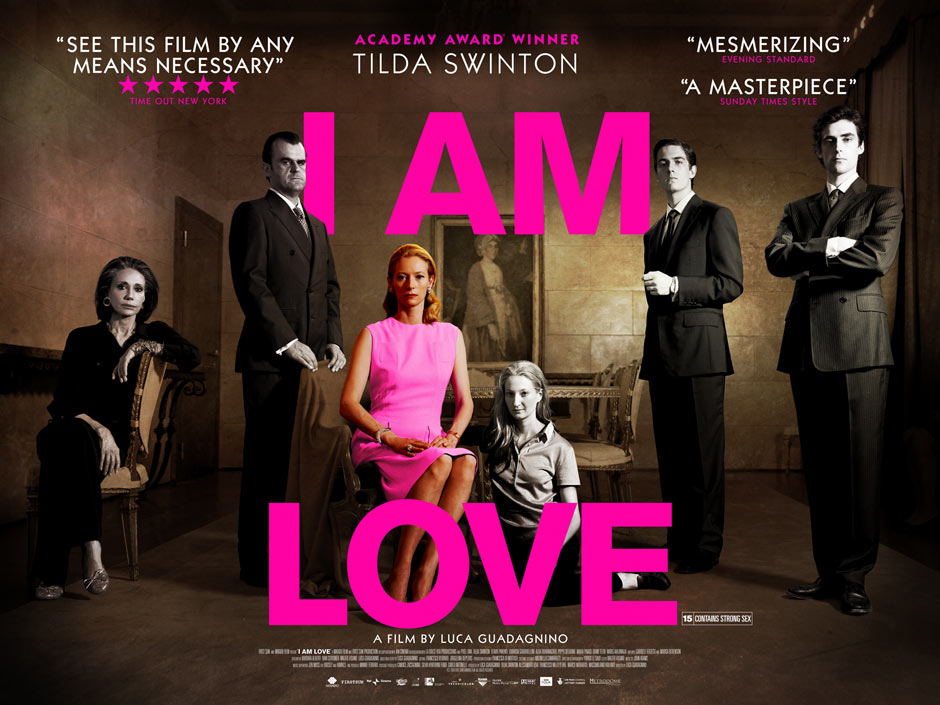 I Am Love Synopsis: Emma (Tilda Swinton), the matriarch of a wealthy Milanese family, lives in a carefully ordered world where her duty towards husband and children dominates. But a chance encounter ignites long repressed passions and sets her on a journey of sexual awakening.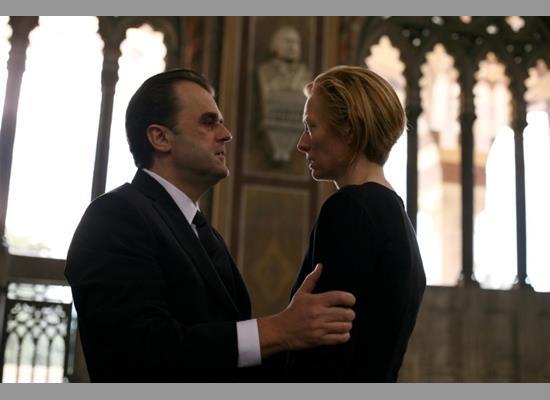 I Am Love will be released to theaters on June 18, 2010. Watch the trailer below.
Poster USA
I AM IN THE RED
>> It's no secret that me and red just don't see eye to eye. Or at least there's a particular shade of red... Royal Mail post box red to be precise that I have always avoided like the plague. I've slowly been dipping into shades that stray far from the postbox but come come April 9th, I'll have to confront it. Actually, I'm willingly confronting it because I'm clasping my hands with excitement at the release of Luca Guadagnino's film I Am Love starring Tilda Swinton. If the other half gets to wee his pants himself over
a mohair jumper in
A Single Man
, then I can swoon a little at the fact that
Raf Simons for Jil Sander
has architected the wardrobe for Tilda Swinton's character Emma Recchi.
I particular love this grurple mauve colour against the Milanese backdrop...
I don't yet have much to say on the film obviously as it isn't out for a few more weeks but perhaps i can get to grips with this postbox red dress that is clearly a character in itself as it features in quite a few key scenes...
Lo and behold... it's also up for sale already for people who have no qualms about spanking a tidy sum of dosh on a LRD... I'm just not there yet but like I said, there's a few weeks to go yet...
Check out the trailer from I AM LOVE which stars Tilda Swinton, Flavio Parenti, Edoardo Gabbriellini, Alba Rohrwacher, and is directed by Luca Guadagnino.
Tilda Swinton Wears Jil Sanders
Sharply dressed Tilda Swinton and Jil Sander fit together like a needle to a thread, so it only seems like second nature that Swinton is outfitted in a complete Jil wardrobe for her upcoming role in Italian flick, "Io Sono L'Amore." Meaning "I Am Love," we dare say that we're falling fast for the pairing. Jil Sander's the master of clean, no-fuss designs that have an ability to transform any wearer into that straight-laced man-killer who might wear sensible shoes, but only to keep her balance while kicking ass. This isn't the first time that a single designer's been sought after for their streamlined point of view; Rick Owens acted as costume designer for the horror film "Otto; or Up with Dead People," and Elsa Schiaparelli famously outfitted Zsa Zsa Gabor in the original "Moulin Rouge." But what about movies to come? It might be too late to offer any real sartorial suggestions, but if we could, here's who'd we get to dress the stars in upcoming flicks

The Imaginarium of Dr. Parnassus—We're loving Dior couture to outfit Lily Cole as she makes a movie about putting on a play.
The Road—We'd recommend Erin Wasson for her affinity for the down-on-their-luck set, but we're not sure how good Viggo Mortensen would look in lace bellbottoms.
Amelia—Couturier and badass feminist Coco Chanel's practical and chic designs would look right at home on aviatrix and badass feminist Amelia Earhart.
Nine—Sparkles, suiting, and something with belt-it-out bravura only calls for Dolce & Gabbanna.
New Moon—No one makes running-through-the-forest-wear quite like LL Bean. But, if the vamps and wolvies want something a little higher-brow, we recommend good ol' American designer Ralph Lauren. Plaid and fangs: Get used to it.

Actress Tilda Swinton
Director
Luca Guadagnino
Photo: Jim Ross/Getty Images
.........................................................................................
The finale is magnificent, satisfyingly-operatic, melodrama,
with Paiato & Swinton
working together
particularly well!!!!
the
portastylistic