SKINT &
DEMORALISED


Skint & Demoralised are an English band formed on MySpace in May 2007. Originally just Wakefield performance poet Matt Abbott (b. Wakefield 06.01.1989), the act became a duo when Abbott responded to an offer of collaboration from a mysterious Sheffield-based songwriter/producer known as MiNI dog.
A songwriting partnership quickly developed over the Summer of 2007 and in August of that year they assembled a live band of numerous Sheffield musicians. Uploading their demos onto a free download site, they eventually received over 8,600 free downloads before signing a deal with Mercury Records in March 2008.
The band's initial success came after sending a demo in to BBC Radio 1 DJ Steve Lamacq, which was first played in early November 2007. Several Radio 1 plays followed before the band attracted attention from numerous record labels. Originally planning a limited single release on Stiff Records, the band eventually opted to sign a deal with Mercury Records.
In June 2008 they flew-out to New York City to start recording their debut album with The Dap-Kings at the Daptone Studios in Brooklyn, New York. The Dap-Kings recently played on Amy Winehouse's 'Back to Black' and Mark Ronson's 'Version' records. Recording of the album finished at RAK Studios in London.
The band's debut release, on 17th November 2008, was a limited release of 'The Thrill of Thirty Seconds' on London indie label Another Music = Another Kitchen and all 500 copies of the signed 7" vinyl sold-out on pre-order. Their second release was a full non-chart eligible release of 'This Song Is Definitely Not About You' through Mercury Records on 2nd March 2009 and is available on CD, 7" and digital download.
Skint & Demoralised

is 20-year-old

Matt Skint

from Wakefield who began life as a performance pub poet in late 2006. Performing poetry in small back-rooms of Wakefield pubs has eventually taken him as far as

Glastonbury Festival

, and he doesn't intend on stopping soon.
Roughly-recorded spoken word tracks then became songs and a project known as

Skint & Demoralised

gradually grew over the next two years. National exposure came with help from the likes of

Steve Lamacq

and a record deal was signed in Spring 2008.
The recording of an album started at The Daptone Studios in Brooklyn, New York with

The Dap-Kings

. It continued at RAK Studios in London before concluding in full-circle with a voicemail message on a Sheffield side street.
Singles such as '

The Thrill of Thirty Seconds

', '

This Song Is Definitely Not About You

' and '

Red Lipstick

' helped Skint & Demoralised to slowly build a national profile.
Watch Matt's weekly football review, keep your ears out for regular new poems and follow him on Twitter (
@mattskint
) as we build towards launcing something special in the New Year.
Cheers for now,
Matt Skint
"We know everything's a bit shit right now, but Wakefield's most articulate (and can we say handsome?) street poet finds the romance beneath the realism. Blending witty observations with

northern soul

, he'll have you feeling better in no time."
NME Magazine (08.04.09)

"Matt Skint is bringing his gospel to the masses, from Wakefield to the World! Putting his words of wisdom and experience over some impressive Northern Soul stylings, Skint and Demoralised are the words, for the words, for the people."
Sheffield Union

"Latter-day Northern Soul meets zeitgeist poetry from a Yorkshire teenager who shows ace potential."
Steve Lamacq (Radio 1)

"In the pantheon of those who spout spoken words about life 'neath the Pennines, Wakefield's Matt Skint, [formerly known as] Skint & Demoralised, will undoubtedly be shoved behind the brollies of John Cooper Clarke and Jon McClure. Yet, as the bras hurtling stage-wards confirm, the fella's spitting something sweeter than punk and politics. Reciting his diary-like confessions to celebrate the launch of his debut single 'The Thrill of Thirty Seconds', it seems the town has turned out in support. They've sussed he's onto something special, and it's hard not to grin along."
Camille Augarde
(NME Live Review, 17.11.08)

"Glorious Northern Soul from the [20-year-old] Wakefield native Matt Skint who has been working with The Dap-Kings on his debut album."
MusicWeek



"A match made in musical heaven...a fab slab of Northern Soul-meets-duck-and-dive-prolixity."
Dan Cairns (The Times)

"Matt Skint ... who only released his first single, 'The Thrill of Thirty Seconds', last November, has come up with a series of uncannily memorable, chirpy, cheeky, loveable sensitive-geezer soul-rap ditties for those who believe that, at 33, Just Jack is just too old to convince as a poet-ruffian, who wish Alex Turner would speak not croak, or who long for a British Eminem only without the psychopathic, homicidal tendencies."
Paul Lester (The Guardian)

"Live, the lanky, handsome Matt Skint oozed easy charm on songs backed by clattering rock and shuffling beats ... reminiscent of early The Streets, with nods to Squeeze, The Jam and Northern Soul."
4* out of 5
Lisa Verrico
(The Times, Live Review 26.02.09)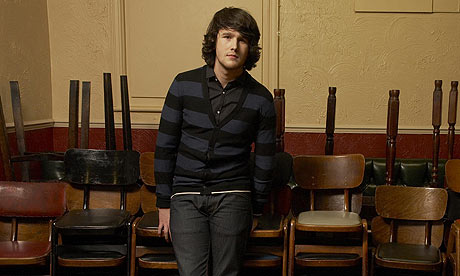 Discography }

Albums }

Love, And Other Catastrophes (2010)
* * * * * * * * *
}Singles
"The Thrill of Thirty Seconds" (2008)
"This Song Is Definitely Not About You" (2009)
"Red Lipstick" (2009) UK #100
}Video
.........................................................................................
"

Wise words from a young man who definitely has what it takes and with the very talented MiNI dOG behind him, fast forward another 12 months and it's not hard to envisage Skint & Demoralised being the name on everyone's lips.

"